Reading Quran is very important for every muslim in this world. This is list of the best quran reading application:
---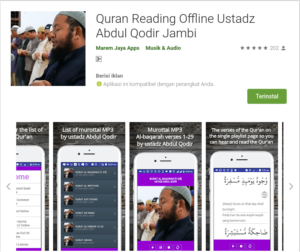 Ustadz Abdul Qodir application is a collection of MP3 that you can enjoy without an internet connection, with a voice that is very beautiful and soul touching. Sometimes he also sobbed and stopped for a while before finally resuming his reading.
He is one of the priests who pray at the Ubay Bin Kaab Mosque in Jambi province Indonesia country.
---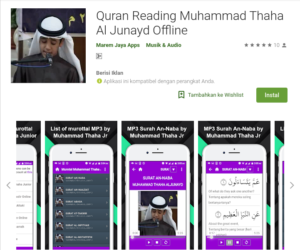 One of the famous Quran reading by ustadz Muhammad Thaha Al Junayd. His full name is Muhammad Salih Ibrahim Thaha Al Junayd. Born in 1994 in Manama, Bahrain (Persian Gulf).
Currently he is still a student and lecturer reading the Quran at Kingdom University Bahrain. Also paid by the Abdul Rahman-Hamad City Center. For his memorization, Muhammad Thaha Al-Junayd learned to memorize the Qur'an at the Al-Quran Study Center Abdurrahman Ajur in Hamad City, Bahrain. He is a Bahrain national.
---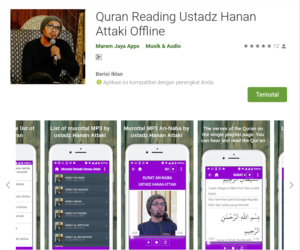 Hanan Attaki was born in Aceh on December 31, 1981 under the name Tengku Hanan Attaki. He is the fifth child of 7 siblings.
He studied at al-Azhar University-Egypt he pursued the Faculty of Ushuluddin, Department of Al-Qur'an Interpretation to obtain a license (Lc) in 2004.
Now he lives in Bandung, Indonesia.
---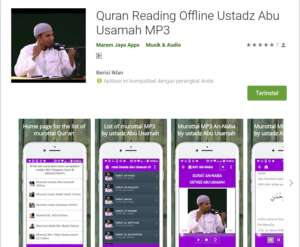 Ustadz Abu Usamah Syamsul Hadi, Lc from Lombok, NTB. He obtained his bachelor's degree from the LIPIA Jakarta Syari'ah Department.
At the moment Ustadz Abu Usamah is the imam of Imam Bukhori Mosque in Radiance Villa Bekasi Housing, Jati Ranggon Bekasi City.
---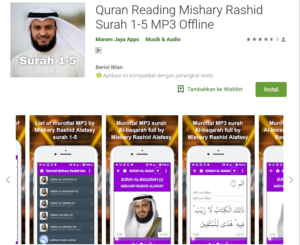 Sheikh Mishary bin Rashid Al-Afasy Mishary Rashid Ghareeb or Mohammed Rashid Al-Afasy was born in Kuwait on September 5, 1976 (Sunday 11 Ramadhan 1396 AH).
He studied the Quran in the College of the Holly Quran and Islamic Studies at the Islamic University of Madinah (Kingdom of Saudi Arabia), in a specialization of ten readings and translations of the Qur'an.
He had learned the Quran's qiro'ah to Sheikh Ahmed Abdulaziz Al-Zaiat, Sheikh Ibrahim Ali Shahata Al-Samanodei, and Cheikh Abdurarea Radwan.
He has been certified by a number of Quranic scholars. He often appeared on television shows and many recordings on YouTube.
Sheikh Mishary Al-Afasy is the Imam of Al-Kabir Mosque (Grand Mosque) in Kuwait City, and every Ramadhan he becomes a Tarawih Prayer priest in this Mosque.
---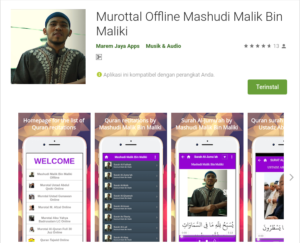 We first learned about Mashudi Malik Bin Maliki from Bali Mengaji youtube channel. There's still not much to know about Mashudi Malik Bin Maliki.
Hopefully safety and well-being always poured into him.